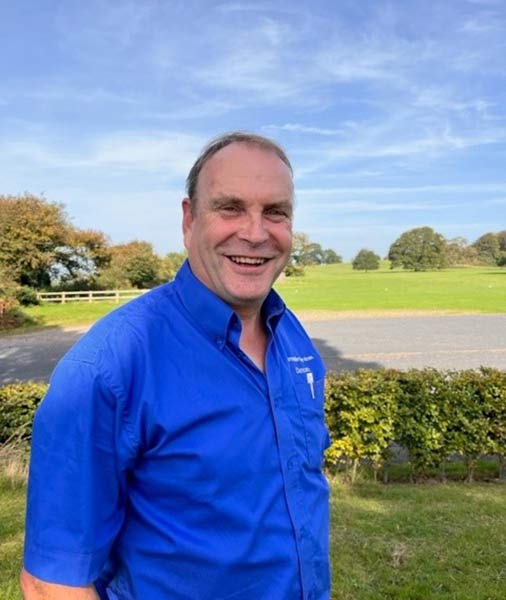 The new President of the Newport and District Agricultural Society has been named as Harper Adams University IT specialist Duncan Gunn-Russell.
Duncan, who is Service Delivery AV Co-ordinator at the University, is set to take up the role of President at the Society for the coming year – with his eyes already firmly fixed on making the 2024 Newport Show the best yet.
Born and bred in Shropshire, both Duncan's father and brother were agricultural contractors, with his father also running an agricultural hardware premises in Shifnal.
With farming in his blood, he joined the Newport Young Farmers Club in the early 1980s, representing them in national debating competition up and down the country, before moving to London, where he trained as an Audio Visual specialist.
When he married in 1998 – with his wife, Amelia, a dairy farmer's daughter – the couple moved back to the area, where they now live on the Shropshire – Staffordshire border with daughter, Megan and son, Angus.
Duncan now puts his AV skills to use at Harper Adams University, and with his home surrounded by fields, woodland, livestock and poultry, he soon found himself tempted back towards helping out at the Newport Show.
He said: "In the early 2000s, I was persuaded by former Show President, Scott Dobson, to help at the show in the parking and gates section – and since then, I've never really managed to escape the clutches of the Newport and District Agricultural Society!
"It is an honour to have been elected as this year's President, a role which I take extremely seriously – and I am looking forward to another amazing year at the Newport Show 2024.
"I'll be trying to build on the high standards that have been set over the previous years by my predecessors – and I can't wait to get started!"
Next year's Newport Show will be held on Saturday, July 13, and work is already underway booking new acts and family favourites alike.
New for 2024 will be the Broke FMX Stunt Motor Bike display team, who will bring their thrilling stunts to the Main Ring – with team leader, John Pearson providing his own on-board commentary whilst performing tricks 35 feet in the air.
Musical entertainment booked will include Paul Parker, whose rootsy Americana, Folk and Blues will be one to watch on the Show Bandstand, while professional storyteller and cartoonist Jake Ewan Evans  will be bringing his tales and drawings to the Education Hub.
Meanwhile old favourites returning include the One Man and his Dog display with Meirion Owen, the Team MAD BMX display, 1940s singers the Ronnies, the wandering Stilt Drummers  and Urban Out Steppers, a Shropshire dance club, who will be performing in the Village Green.
Tickets will be available in just over a week and will make a great Christmas presents – to find out how to get one and keep up to date with show news, contact us here.
The new President of the Newport and District Agricultural Society [...]
On behalf of the Trustees of Newport & District [...]
Spring is upon us and I, for one, am [...]